Have you done TRCN EXAM and would like to know how to check your TRCN result to see if you passed or not?
In this guide,
You will see how to check your TRCN result online & offline, what to do next after checking and solutions to "RESULT NOT FOUND" or "INCORRECT PQE NUMBER".
---
---
Take note.
TRCN result comes out 1–2 month(s) after the exam and the TRCN OFFICES NATIONWIDE are given the list of their successful candidates first, before it is uploaded on the result checking portal.
So, how to check your TRCN result offline is to visit or contact the office where you registered for the exam and confirm if they have received the list of candidates that passed.
See how to check your TRCN result online
Visit the official TRCN website
Click on www.trcn.gov.ng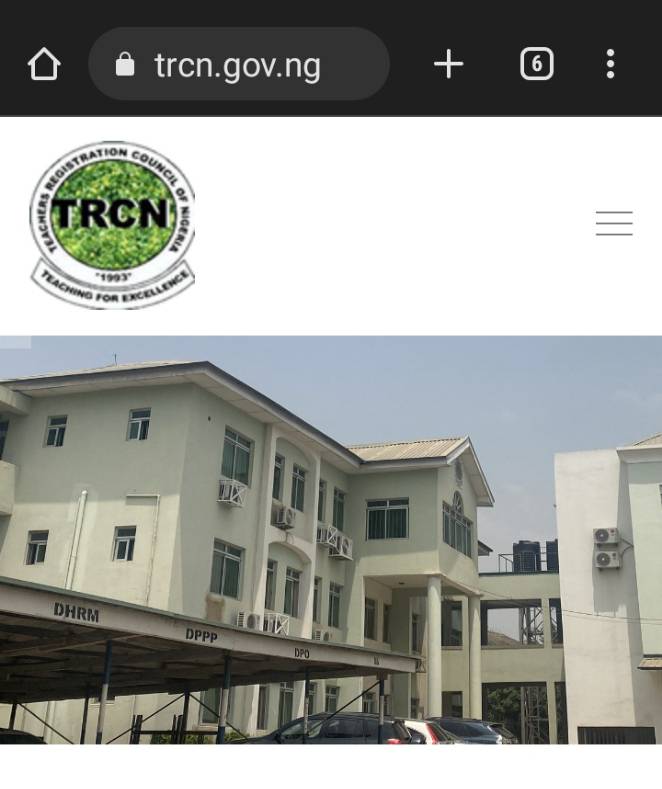 Click on the MENU button, that three-lines at the top right corner of the website.
The Menu will be displayed with the list of options as seen below.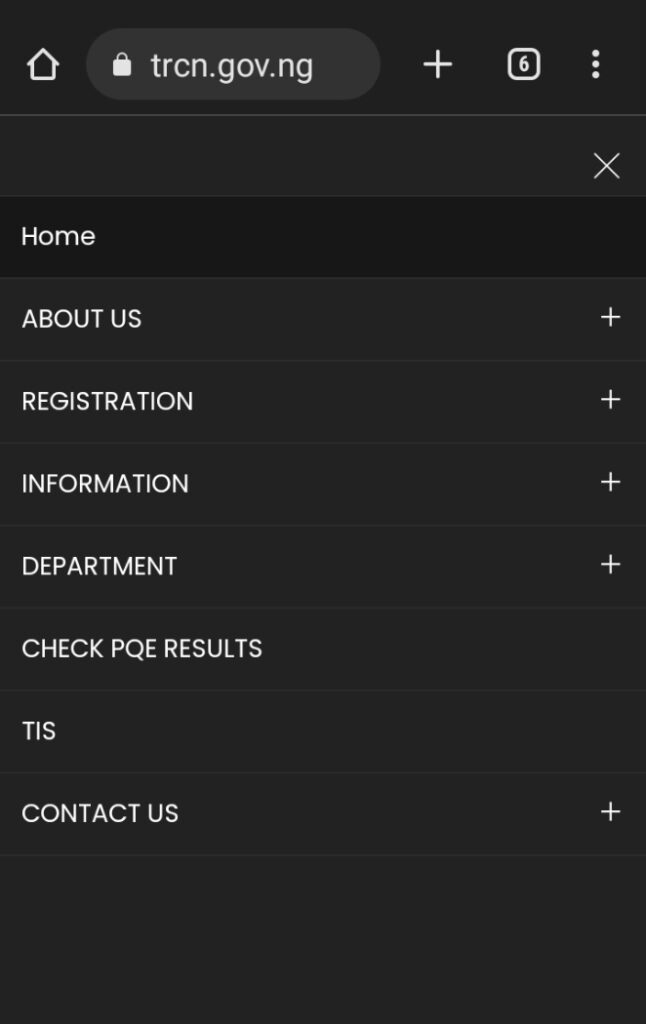 In the Menu, click on "CHECK PQE RESULTS".
The result checking portal will be displayed as seen below.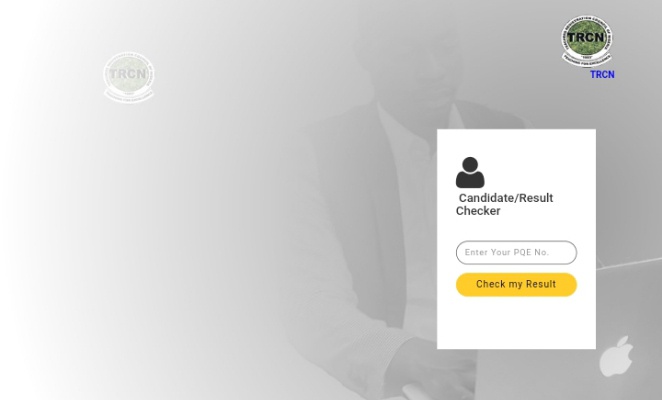 Click on the box and enter your PQE number.
After entering your PQE number, click on "CHECK MY RESULT".
…and your result will be displayed for you to see like this.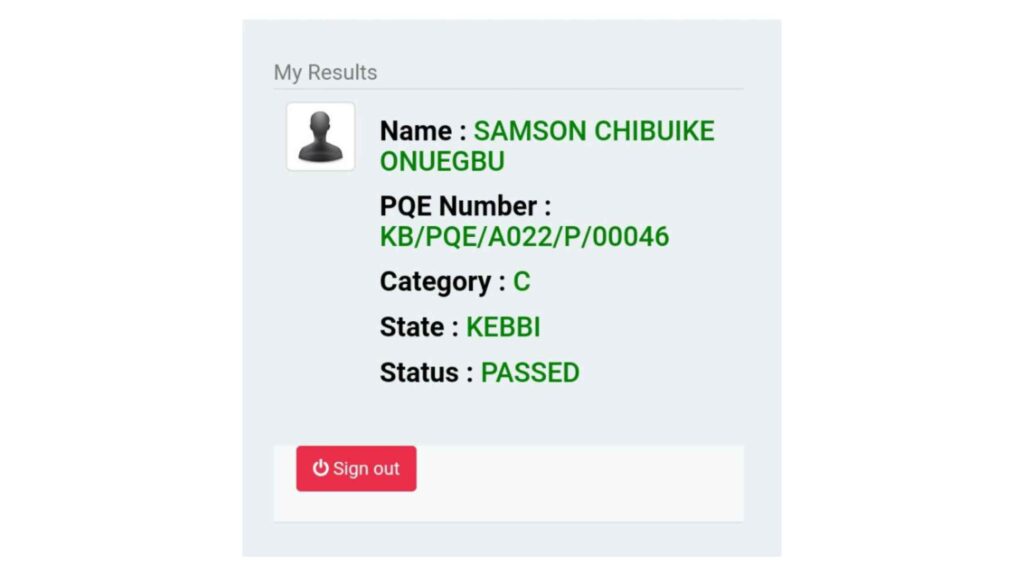 What next after checking?
The "PASSED" status means that you passed the TRCN exam and your next step should be to collect the certificate and license.
But if the result portal shows RESULT NOT FOUND or INCORRECT PQE NUMBER, here are some reasons why and how to resolve it.
Solutions to "RESULT NOT FOUND" or "INCORRECT PQE NUMBER"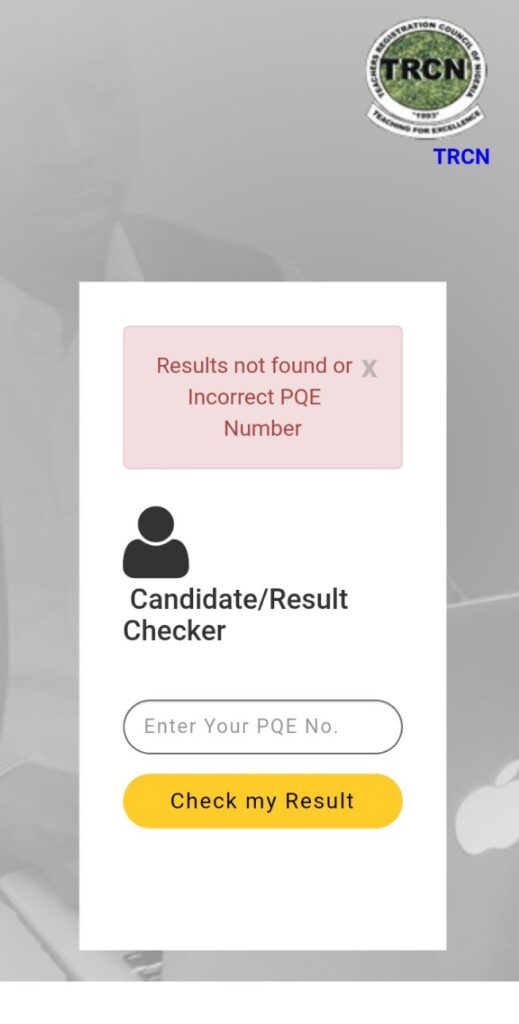 If your screen displays this error message above instead of your TRCN result, it could mean…
Reason 1: You entered your PQE number wrongly.
Reason 2: Your result is yet to be uploaded.
Reason 3: You failed the exam.
We'll advise you to visit the TRCN result checking portal again and re-enter your PQE number but this time…
Do NOT leave any space before, within, or after your PQE number.
Do NOT type any of the Zeros as letter "O" or vice versa.
If it still displays the same error message after taking the above precautions, then wait for a week or two and check again.
It could be REASON TWO (that your result was not yet uploaded earlier).
But if the error message remains even after a week or more, then it is unfortunately REASON THREE.
You can choose to either give up on the exam or retake it for the last time with our detailed guide.
GOOD LUCK.
Do you have something to say on how to check your TRCN result online and offline? Comment below and a staff or fellow ACADite will reply you.