Are you interested in OBTAINING TRCN CERTIFICATE and would like to know how register for TRCN examination successfully?
In this guide,
You will see the correct procedure for TRCN exam registration, your eligibility, and how to register for TRCN exam this year without being scammed.
---
---
Take note.
Just like ICAN for Accountants, and NBA for lawyers, TRCN conducts Professional Qualifying Examination (PQE) for teachers and issue official teaching licenses to those who pass the examination.
Can I write TRCN exam?
Yes.
If you studied Education in the University or went to College of Education, you are automatically eligible to register for TRCN exam.
But if you studied a Non-Education course in the University or have HND, you will need to also possess a Post Graduate Diploma in Education (PGDE, PDE, or PDDE) to be eligible for TRCN registration, certificate and license.
What are the requirements for TRCN exam registration?
You'll be required to possess and provide the following documents to complete your registration for TRCN exam.
— School Certificate: your NCE, Bachelor's degree, Master's degree, or Doctorate degree certificate.
— Teaching Qualification: if your school certificate is in Education (i.e., NCE, B.Ed, M.Ed), you are already a qualified teacher and do not need any more teaching qualification. But if not, then you'll need to present a teaching qualification (PGDE, PDE, or PDDE) along with your Non-Education school certificate (i.e., B.Sc, B.A, M.Sc, M.A, PhD).
— Birth Certificate (photocopy).
— Certificate of State of Origin (photocopy).
— Passport Photographs (4 copies).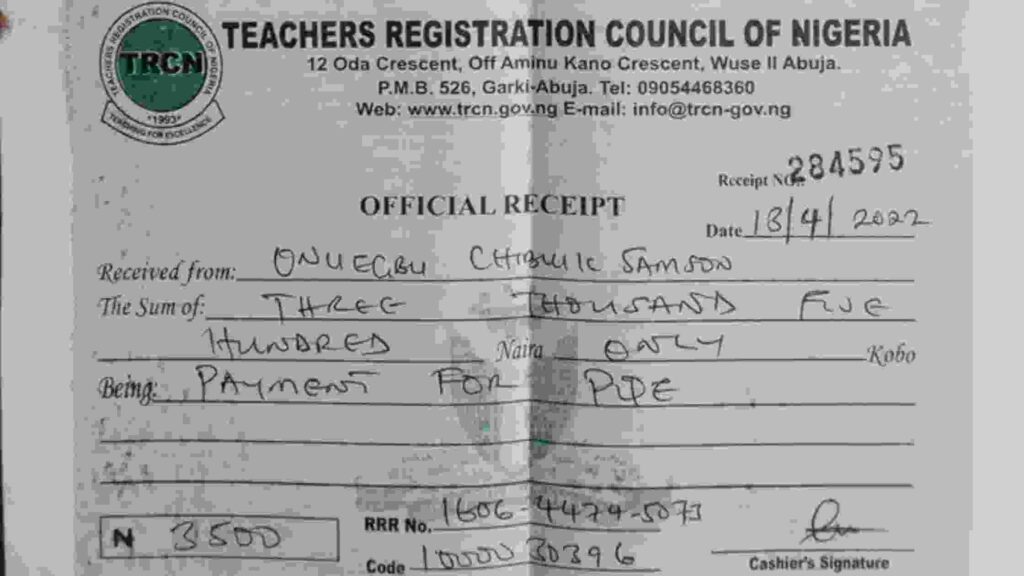 See how to register for TRCN exam
Once you have all the required documents mentioned above, proceed with your TRCN exam registration as follows.
1. Go to any TRCN office
There is always one official TRCN office located in the capital city of every State in Nigeria.
We've made a list with the location, address and contact details of all the TRCN offices in Nigeria for you.
Visit the one nearest to you (in any State where you are) and do NOT consult anyone outside these offices to avoid being scammed.
Some Colleges of Education are affiliated with TRCN. So, you can walk into the closest one, confirm their affiliation and complete your TRCN exam registration there too.
2. Request to register
Once you get to any of the TRCN offices or affiliated Colleges, tell the officer that you want to register for TRCN Professional Qualifying Examination (PQE).
You'll be given the remita payment details to pay the appropriate sum to a "Federal account via Remita" based on your category.
How much is TRCN form?
| | |
| --- | --- |
| Category 'A' (teachers with Ph.D) | ₦5,000 |
| Category 'B' (teachers with Master Degree) | ₦4,000 |
| Category 'C' (teachers with Bachelor Degree) | ₦3,500 |
| Category 'D' (teachers with NCE) | ₦3,000 |
NOTE THAT the above TRCN exam registration fees apply when you visit the TRCN office by yourself.
Affiliated Colleges of Education may charge higher amounts to cover the logistics of taking your form to and fro the TRCN office.
Affiliated Colleges may also require you to pay the money to them in cash but TRCN offices will require you to make the payment via remita to a Federal account.
3. Make the payment
Go to any bank or cyber café and tell them that you want to pay via Remita for TRCN exam.
Banks will do it without much questions but cyber café operators may need further guidance.
If they do, tell them to:
Visit the Remita Platform.
Select "Teachers Registration Council of Nigeria".
Select "Professional Qualifying Examination Application Fee".
Enter the GIFMIS code (get it from the TRCN officer)
Input the amount, your name, phone number and email.
Click on SUBMIT.
Input their ATM card details.
Click on "Make Payment".
Do NOT give the cyber café (or anyone) your ATM card details because your account may be used to make further online payments without your consent.
Let the operator input their own card details for the payment while you refund them the money either as cash or transfer.
In fact,
If you are tech-savvy, you can even use your phone or PC to make the payment online following the same steps above.
4. Go back to the TRCN office
Return to any of the TRCN offices with your evidence of payment (teller, remita receipt) and all the required documents for registration.
5. Fill the registration form
After confirming your documents and evidence of payment, the officer will give you the exam registration form to fill appropriately.
In the form, there will be a section for you to select one category from A to D.
Here's the interpretation,
Category A – if you are a Doctorate degree holder.
Category B – if you are a Master degree holder.
Category C – if you are a Bachelor degree or HND holder.
Category D – if you are an NCE holder.
Select ONLY the category of your highest certification.
For example.
Let's say Mrs Funmilayo has a Master degree, Bachelor degree, and an NCE. She can only select Category 'B' which is her highest certification.
After completing the form and submitting your documents, you'll receive your TRCN exam permit to be used to gain entrance in the exam centre on your exam day.
Get your exam date from the officer and exchange contacts with him/her for further enquires or information about your exam.
GOOD LUCK.
Do you have any something to say on how to register for TRCN exam? Comment below and a staff or fellow ACADite will reply you.